The Price of Silver Is Moving Up
Cash In With Metal Detecting
The price of silver has moved steadily higher in the past few years.
The values of silver coins, and jewelry has appreciated to a point to where many people who never thought of owning silver are now buying.
If you own a metal detector then you are already involved with a hobby that can bring rewards based on silver and gold prices.
Many detectorists are finding silver coins and jewelry that can literally help pay for a new metal detector.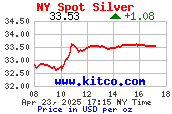 If you have been thinking about purchasing a detector, perhaps you should make that purchase and cash in on silver prices.
 Metal Detecting and Silver Coins

Coin sales have been exploding as the price of silver and gold prices increase. Click here to read more about the precious metals market.

I don't know of any other hobby that can bring the extra "cash" with as much fun as metal detecting.
With persistent and a bit of energy you can dig your way to silver coins and jewelry.
You don't have to buy a metal detector that has all of the bells and whistles either. For a few hundred dollars you can buy a new detector that gives you everything you need to get started. There are metal detectors that are reasonably priced, that even the pro's use.
The skilled user with an inexpensive detector will find more items than an individual who is not skilled and has an expensive detector. Anyone who practices with their metal detector will have success.

Frank W. Pandozzi is a participant in the Amazon Services LLC Associates Program, Clickbank, and MyTopo affiliate advertising programs designed to provide a means for sites to earn advertising fees by advertising and linking to amazon.com, mytopo.com, and clickbank.com.
Please visit my Affiliate Disclosure below for more information.


The Price Of Silver Is Worth The Fun

There are so many areas to search for silver coins and jewelry. I have hundreds of areas researched that I will never have time to get to. If you love reading history...that's an added bonus to finding areas to metal detect.

The history of where you live is a great place to start. Read old history books about your area. Often times these books will mention places that were frequented by people. And any place where people congregated, they lost money and jewelry.

With silver prices at an all time high, metal detecting becomes even more fun. I can't think of another hobby that gives so much pleasure, and where the rewards can be so high.

Whether you are new to the hobby, or an experienced detectorist, take advantage of the silver prices and go metal detecting.


If you live in this area...the price of silver is a good reason to metal detect here.

Buying Precious Metals
Thanks for visiting!

AFFILIATE DISCLOSURE

I am an affiliate marketer. This means that certain products that you may see advertised on this site I get paid a small commission if that product is clicked on AND purchased by you. Those products, whether pictures of a service or a product contain links to the seller.

What companies do I work with and promote?

I work with Amazon Services LLC Associates Program, Clickbank, and MyTopo, affiliate advertising programs designed to provide a means for sites to earn advertising fees by advertising and linking to these websites.

I also promote Solo Build It Site Built It, because it's the product I used to build this website.

Please do not use this website if you disagree with any of the terms outlined here.

Thanks for visiting!

Thank You,
Frank W. Pandozzi, Website Owner