The Price of Silver Is Moving Up
Cash In With Metal Detecting
The price of silver is moving into the stratosphere.
The values of silver coins, and jewelry has appreciated to a point where many people who never thought of owning silver are now buying.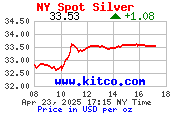 As the dollar drops to historical lows and the price of oil continues to increase, precious metals like silver, gold, copper and platinum move upward to prices never before anticipated.
If you own a metal detector then you are already involved with a hobby that can bring rewards based on the silver and gold prices.
Many detectorists are finding silver coins and jewelry that can literally help pay for a new metal detector and much more. If you have been thinking about purchasing a detector, perhaps you should make that purchase and cash in on the silver boom.
Coin sales have been exploding as the price of silver and gold prices increase. Click here to read more about the precious metals market.

I don't know of any other hobby that can bring the extra "cash" with as much fun as metal detecting.
With persistent and a bit of energy you can dig your way to silver coins and jewelry.
You don't have to buy a metal detector that has all of the bells and whistles either. For a few hundred dollars you can buy a new detector that gives you everything you need to get started. There are metal detectors that are reasonably priced, that even the pro's use.
I am a metal detector dealer - If you would like more information on which detector to purchase, please feel free to contact me.
Whether you are new to the hobby, or an experienced detectorist, take advantage of the silver prices and go metal detecting.


The price of silver is a good reason to metal detect these Eastern ghost towns.